So I am slacking in getting all my photos from my trip to the northwest half of the country organized, so I will just follow suit with what I did for my last trip. Since this was not a skate trip and skating was very minimal, here is a short recap.
I didn't really get any pictures of skate spots in Portland. I did get a chance to skate Burnside for a little bit, as well as this nice bank close by it. Some photographer b-boy that was walking by with his camera and stopped to shoot some photos of me skating the bank. If he post them up then I will share them here. Either way, here are the two photos I did get in Portland.
This spot was super hard to skate, but now it has been skate stopped. While it was hard, it was a pretty fun spot. RIP. Oh yeah, Alan Siegler got a trick on here that you probably wouldn't even think to try...just saying.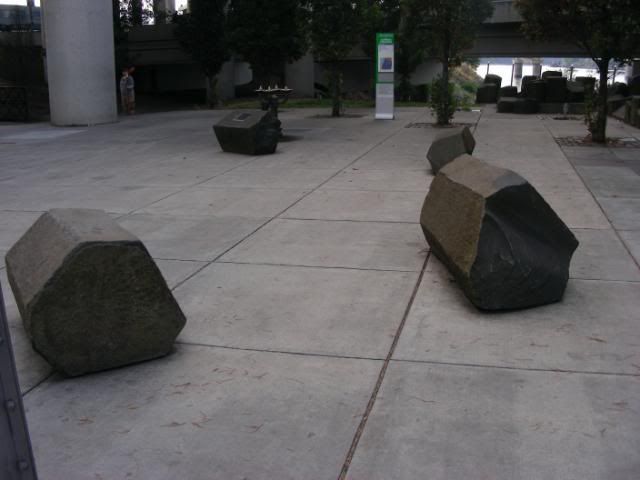 This is one of my favorite spots in portland. There are all these rock formations that make for some fun wallrides, nose bonks, and wallies. Last time I was skating here with Leonard, Chet Childress rode by on his bike. This time Camille and I were there and an AIDS walk went by us in route. No correlation between the two...just saying.
We decided last minute to make a quick trip up to Seattle to check it out since we squeezed a lot into the Portland trip in a short amount of time. Since we weren't in Seattle for long, we only went by one skate spot. I have been wanted to skate that bank to wall spot with the pebble handrails for a long time and took advantage of this opportunity. I didn't skate the handrails because I was too tired from skating the wallride, but the wallride was really fun. It is much taller and steeper than I had imagined, however. I was pushing as fast as I could to get less than halfway up the wall. How Gravette wallrode over the corner is a mystery to me.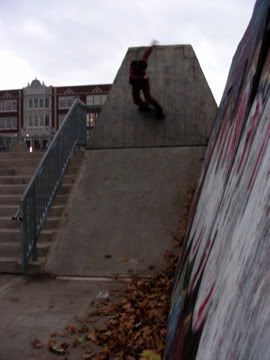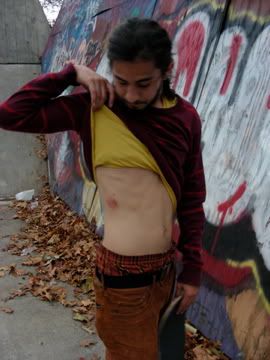 I slide one out down the bank on my ribs. Ouch.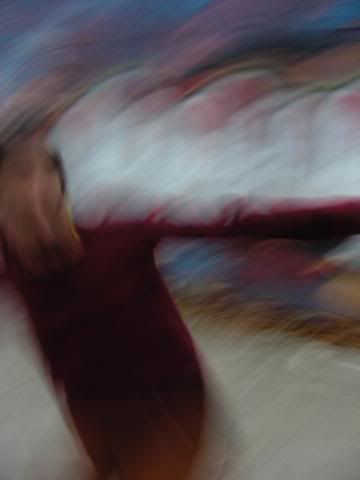 These are some funny shots Camille took of me coming down. The first one looks like an abstract painting of me zooming past her and the second one looks like a cartoon. I ran that one out and my legs just looks crazed.
While there were a couple other destinations, they were not skate type of destinations. Let's move on the San Francisco.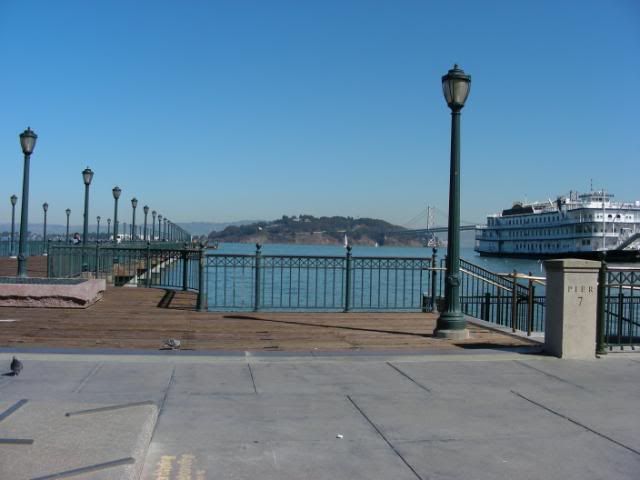 While we weren't looking for Pier 7, we stumbled on it while walking by the water.
It was skate stopped, however.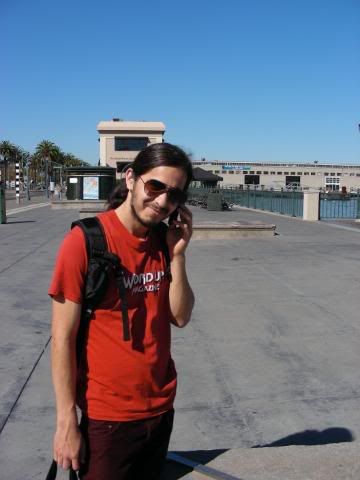 No skating here.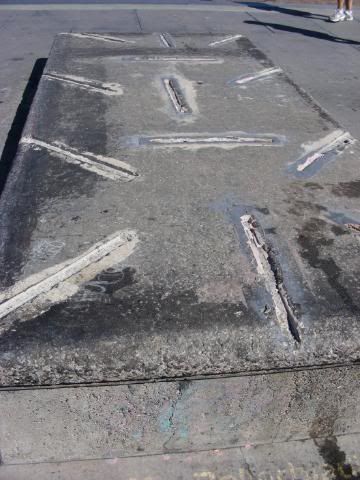 Someone tried to liberate it, but I don't think anything is going down here.
The main spot that I wanted to see in SF was Third and Army. This is definitely my favorite spot now. I wish that I got more pictures of the rest of the spot, but, unfortunately, I did not. This section is the highlight of the spot anyway.
Doing ollies on this was so fun, but it is not easy to get up to that railing. Props to Drehobl on that.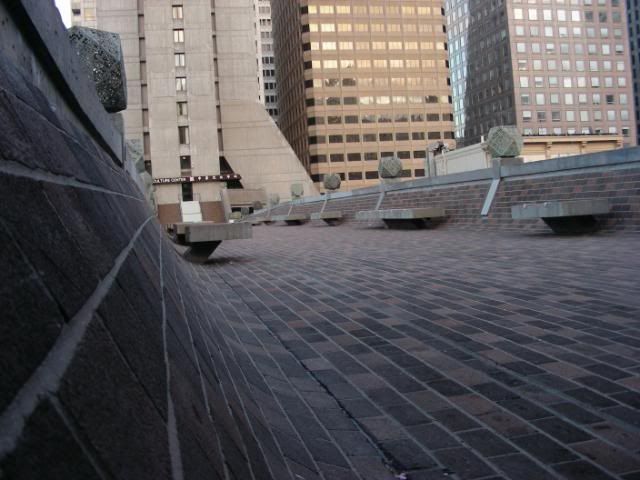 After a bit of searching, we finally found the China Banks.
Too bad they were closed off...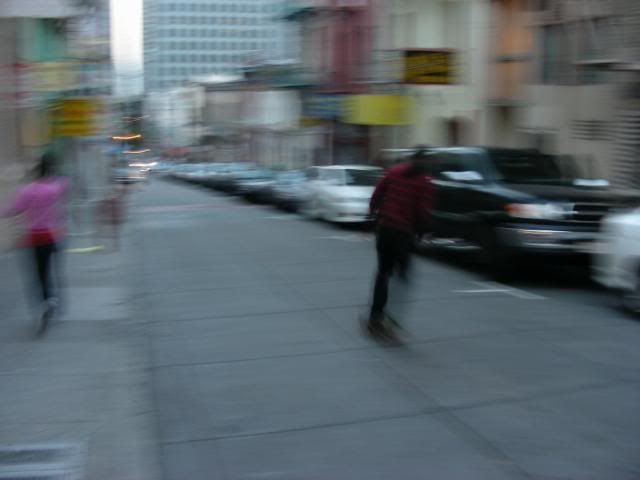 My one attempt at bombing a (sub-par) SF hill.
Went to The Embarcadero. It was knobbed like crazy.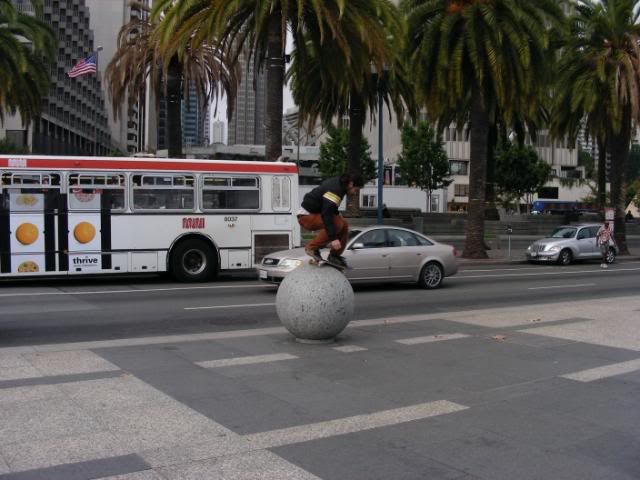 Found two semi skateable things in the area to skate for a minute.
Overall, all three of those cities have some amazing things to skate. Portland is one of my favorite cities to skate in general, though I hardly did on this trip. I wasn't in Seattle for nearly long enough to get a grasp on the scene at all, though I did see quite a bit of potential spots in passing. San Francisco definately has many possibilities and spots that would make for some epic skating (no wonder so many companies are based out of there). I also forgot to mention that I got to skate the new
Potrero Del Sol Skatepark
they built there in July. That is, by far, one of the best concrete parks I have skated. Just
watch this clip
to get a grasp!
Unrelated to this trip, you should
check out the new Jake Johnson interview
on the Alien Workshop site.