Holy Crap! Leonard posted! I didn't expect that to happen…
So, you are in my thoughts or whatever, bro. haha.
I would be psyched to read your book, Lard. Let me write your introduction…even though I don't know much about what you are writing about.
I am not psyched on the seal or rabbit fur (vegan, remember?), but I am psyched on you two traveling. I mean, that whole EU thing should serve some purpose outside of the financial thing…errr, let's not talk about that financial thing since we are not doing as well as you guys over here. Remind me to tell you about my project related to that at some point. **Since some people (*cough*Camille*cough*) don't understand what I meant by the traveling thing, I was implying the ease of travel throughout Europe.**
Camille and I are going to be venturing out west to find our new home soon. Well, we probably won't move until '09, but we need to find something now so that we can plan. Your hometown is on the top of the list, dooood.
We are also thinking about getting one of these: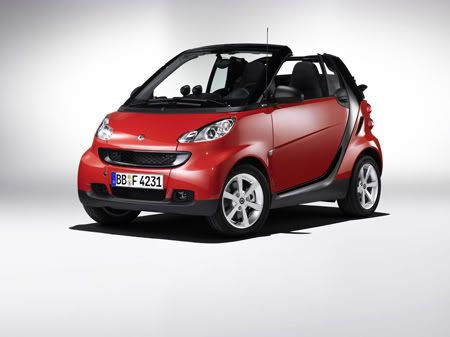 Imagine the parking possibilities with one of those. I wouldn't ever have to worry about a spot. That thing is 3 feet shorter than a Mini Cooper, and it has amazing gas mileage. Plus I don't have to give people rides because there is no room…suckas. We will see if it happens…
Leonard, check this out:
So with the failed attempt to make a video, here are some of the clips I have been saving up mixed with some throwaways. This is what is left over from what I gave away and what I put away in case I do decide to continue with the project. I know some of these are ABDs, but they weren't when they were filmed... Featuring: Gary Rzeszutko, Luis Tolentino, Jeremy Cohen, Anthony (?), Boston Evan, Eric Collins, Lurker John, Jerry Mraz, Steven (?), Maurice Leeke, Ralph's NH Friend, Ray Wong, Warwick TJ, Taji Ameen, (?), Miles Marquez, Rob Campbell, Ralph Murphy, Alan Siegler, Eby Ghafarian, Andre Lezema.